Camper Notices
2013 Campmeeting

We hope you are starting to get excited about the #119th annual encampment. Look at the 2013 Schedule for the "who", "what" & "when" of this year's program. The Speaker for the Peace Keepers' Night service has been announced. Rev. Doug Compton who is the pastor of Grace United Methodist Church and who has served with the PA National Guard will bring the message . The menu and money saving meal plan options have been announced. We are pleased to have Lena King and family return to prepare the meals for the week. A highlight of the 118th encampment was the "Amish Wedding Meal". This year we will enjoy this Amish tradition once again. We urge you to make your reservations ASAP for all meals especially the Amish Wedding Meal. The Youth Leaders have submitted information on the Youth Page with a letter to the youth. Youth are encouraged to Register so that Aaron & Marcie can be prepared. Parents may register children for VBS as well. An afternoon activity period has been scheduled for children, however, we still need some people to help. Use the contact page on the website, call 717-602-2707 and we will put you in touch with someone who can provide information.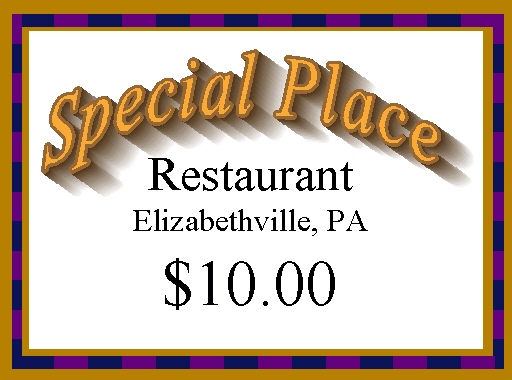 Special Place Gift Cards

The deadline to order Special Place Gift Cards is quickly approaching. Remember to order & pay for your cards before the May 20th deadline. Don't forget that payment MUST accompany all orders. Checks may be made payable to Lykens Valley Campmeeting. No cards will be ordered without full payment. For every $10 card sold, the Campmeeting will receive $3.50!! What a great way to help this wonderful ministry! Cards will be available/delivered June 1 or at the auction. The cards do not have an exporation date. Be sure to ask your friends, church congregation and relatives. They make terrific gifts -- holidays, birthdays, anniversaries, etc. Judy Harris is coordinating the sale.



Auction Info.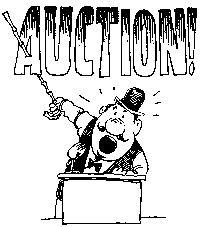 The Second LVCM Benefit auction is just days away (25 from today -- May 15) Before we realize, it will be Saturday, June 8. It is not too late to donate items for the Auction or the Yard Sale. We really needmore merchandise especially marquee items -- attention getting items that will draw people in. The boarding house will continue to be open on Friday evenings from 6:00 - 8:00 as well as Saturdays from 8 am till 2 pm. A sign is posted on the door if no one is in the building, however, a sign will tell you who can let you in. (Stop by their or cottage or call their cel). You can also call Lori to set up an appointment for a time that is more convenient for you. You still have time to put a basket together for the Secret Bidder Basket Auction. If you need help assembling the basket, please bring your items to the boarding house ASAP. We are also desparate for donations of food items: cakes,pies, brownies, soups, sodas and volunteers.
Be sure to invite your friends to the auction (If you're on Facebook, send out the word there too!) Look for a sale bill listing and pictures in the near future.
Just released: Folks who would like to bring their own Yard Sale items may rent a space for $10.00/ table. They need to bring their own tables.

DON'T FORGET: A HUGE Yard Sale / Auction Preview will be held on the grounds (rain or shine) on Friday, June 7 from 8:00 AM to 6:00 PM. Food will be available all day. You can pick up Gift cards (10% discount -- first come, first served will be assured of getting the cards you want), bid on the "Secret Bidder Basket Auction" or register for an auction number.
We can accept the following items: Antiques, Art, Dishes, Household items (new or gently used), Tools, Coins, Sterling Jewelry, Dishes, Hand crafted items (such as quilts ETC.), Gift Baskets, Furniture (in GOOD condition)
We CANNOT accept any of the following: Clothing, worn upholstered furniture, mattresses, pillows, curtains, blinds, paint, tires, large appliances, televisions, titled vehicles, fire arms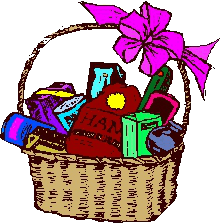 Mystery Winner Basket Auction

On June 8th, we're hoping to make the Basket Auction more exciting so we're adding a new twist. We're calling it the Mystery Winner Basket Auction. The baskets will be offered first all day on Friday in the form of a "Silent Auction." Everybody in attendance will have the opportunity to "bid" on sheets of paper next to each basket using their bidding number. Bidders can bid multiple times to attempt to offer the winning bid. At 6 p.m. the sheets will be placed in a sealed envelope and attached to the basket. The baskets will be offered on the auction block on Saturday. When the highest bid is offered, the auctioneer will open the sealed envelope to see which amount was higher. If the "silent" bidder is the lower bid and is present, he will then have the opportunity to "top" it. If not, the live bidder wins. If the sealed envelope contains the highest bid, the live bidder will have the opportunity to top it. If not the silent bidder will win. We think it has the potential to be a lot of fun!
The following is a list of basket theme ideas with filler suggestions to get your imaginations working! We're hoping to have lots of choices. If possible, the baskets should be completely ready and dropped off at the boarding house before June 1. Baskets should be wrapped in plastic, which can be purchased very reasonably at Dollar stores. A sign containing the basket name & ingredients should be attached to the outside of the basket so everyone will know what's inside. If you need help to assemble your basket, let us know ASAP. June Davis will be coordinating the Basket Auction entries. It would be extremely helpful if you would please let her know what you are planning. As always, we thank you in advance for your participation with this. It is vital for a successful auction.
NEW IDEAS:
Do you love you love to bake? How about a "Fresh from my kitchen" basket, filled with delicious baked goods?
Do you enjoy crossword and other puzzles? Someone else might love a basket filled with a variety of puzzle books, along with pencils and erasers in a "Puzzler's Delight" basket.
Do you love a good mystery? Create an "It's a Mystery to Me"' basket, filled with paperback detective stories.
Here are some other suggestions that haven't been claimed yet:
Basket Theme Filler Ideas
Tool Time Various tools, how to books, duct tape, nails, etc, Home depot/Lowes Gift Card
All American Flag, anything red, white and blue
Knead It! Baking items, cookbook, loaf pan, bread flour, yeast
Team Spirit Choose a team – fill with fan items
Kitchen Fun Cooking Utensils, hot pads, recipe cards etc
Oh lae! Chips, salsa, spices, colorful bowls
Company for Dinner Plates, napkins, table décor, nice centerpiece, salt and pepper shakers – entertainment theme
Cozy Hot chocolate, mugs, marshmallows, a good book, puzzles
Deck the Halls Anything Christmas
Catch a Wave Towels, sunscreen, sand toys, etc.
Pamper Yourself Slippers, robe, bubble bath, nail polish/remover, facial masks
Let them eat cake Cake stand, pans, mixes, icing, sprinkles, cupcake pans etc
"Soup"er Basket Soup, crackers, ladle, bowls, spices, pretty oven proof dishes,
Princess Theme Everything for girls – pink, purple, nail polish,
Toys for Boys Trucks, cars, balls,
Teen Scene Itunes gift card, Candy, Popcorn, Energy drinks,
Special Delivery Everything for the baby
Toddler Everything for a Toddler – toys, clothes, bibs, etc
"Date Night" basket Sparkling juice, wine glasses, restaurant gift card, romantic movie
Important Dates:
June 1 -- Clean up Day
June 7 -- Yard Sale / Auction Preview/ Gift Card Sale / Mystery Winner Basket Auction begins
June 8 -- 8:00 AM Benefit Auction
July 11-21 -- 119th Annual Encampment