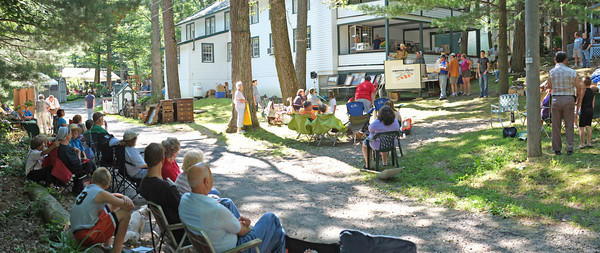 2012 Auction Review

On June 23, a loyal group of campers rejoiced in the beautiful day that God provided as we gathered to welcome our auction guests. Though the crowd was not as HUMONGUS as we had hoped, all went well. We were not only able to raise funds for the encampment but to greet many of our neighbors, share our history & goals and invite them to return for services in a few days.

Three auctions filled our day. We sold everything from antiques, collectibles, dishes and furniture to landscape plants, food and just about anything else you can think of. The group worked cheerfully to deliver merchandise, serve food, register bidders,collect monies & clean up afterward. We are most grateful to Jesse & and his wife, Crystal who donated their time, expertise and efforts in helping us. Jesse organized a group of his piers who volunteered their services to keep the day moving. We thank each and every one for their service to us and the auction public.

Our treasurer reports that the profits from the auction were $4.614.49! This will go a long way toward funding the 118th LVCM Encampment.

We hope you will enjoy seeing scenes from the day while you prepare for the SECOND annual LVC Benefit Auction scheduled to be held on June 8, 2013. We hope you will want to reseerve the day and commit to being there!

Don't forget LVCM, 2012 begins in less than two weeks -- July 12 -22!