Elva Hurst
Chalk Artist
Elva grew up in a large conservative Mennoni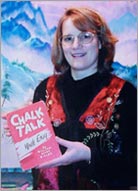 te family in Ephrata, PA where she attended a small "one room" Amish and Mennonite school. Art was viewed as frivolous by many of those around her, but that did not keep Elva from etching scenes in between chore on the family dairy farm.
When Elva was in 8th grade her teacher noticed her artistic talent and encouraged her to become more observant to detail. However, 8th grade was the highest level of education Elva's parents and the school would allow. So Elva quit school to help out on her parents' dairy farm. In her free time she began to teach herself how to paint, saved her pennies to purchase art books and spent hours watching other artists at work. Inspired by them, she followed their advice on becoming an artist. There are three things you need to do to become a good artist:
#1 Practice
#2 Practice
#3 Practice
Elva took this advice seriously and made herself practice every day on whatever items she could find around the farm..Thus her art career began by painting at her mother's kitchen table. Her family had neither television or radio for entertainment. In it's place Elva's mother would read books aloud to her during the long hours that she spent painting.
In recent years, yet another form of painting has become her primary focus; chalk talks. Before crowds of people Elva uses chalk to draw a la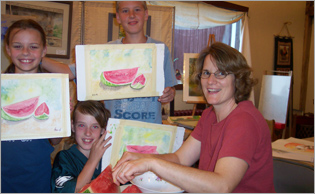 rge picture illustrating a story that is presented with pre-recorded music and narration. She has developed numerous programs with historic, patriotic, inspirational and holiday themes.
When people express amazement that an untrained artist with no formal educations has had full-time work for more than twenty years, Elva responds by saying,
"I give all the credit to God. He opens the doors and makes the way."
Elva's chalk talks were born out of her love for the arts, and above all, a deep desire from within to share the same wonderful good news of the Gospel that so radically changed her life and continues to bring purpose excitement and adventure into her life!
...